NintendoDS: M3 miniSD adapter + Passcard v3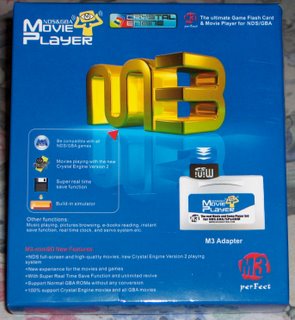 This is actually a very nice pice of hardware. The M3 miniSD adapter is a flashcard for the GBA and NintendoDS (all versions). This allows you to play both commercial games and homebrew for GBA and NDS and it works perfect. I used a 2GB miniSD card for this test and copied some games using the supplied softwaremanager. This software creates savefiles on the miniSD and you are also able to patch the games with cheats if you want. When you have played a game and start the GBA/DS the next time, the device backp the SRAM to the savefile. In GBA games you can also save at any point in the game. This is veryusefull.
M3 can also read (plain ASCII) text, show pictures and play (converted) movies and music. If you use the MoonShell software, you can play MP3 without the need to convert. Great.
There excist a lot of good homebrew for both GBA and NDS, games and utilities. I've tried a few and it works. There is some problem with NDS homebrew because not all software support writting to miniSD and so…, but with time this will get better. After a lot of tries I managed to play Monkey Island 2 with ScummVM DS. This was great.
Over all, this is a great device and other review I've read on the net says the samething. Well worth a buy.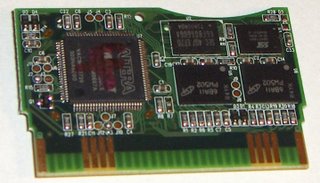 ---
Forslag til innlegg: