Review: Need For Speed: Carbon (Xbox 360)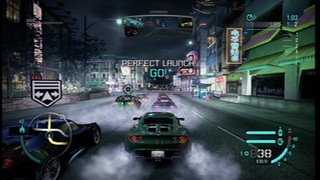 I've played Need For Speed: Carbon a lot the last two weeks. It's a good average game. The Carbon games differ some from Most Wanted. ou can play Free Roam, Career or Online.
The game have four areas. Each one have a boss. Every area is divided in smaller areas and has 3-4 race in it. If you win some of the races, you get the small area. When you have all the small areas in a big one, you can race the boss.
In the Free Roam and Career there are a lot of different races: Circuit, Sprint, Checkpoint, Drift, Speedtrap and you also get the Canyon race when fighting the boss. You also have a Challange series. I don't master the Drift race yet, but I'm getting better.
The online is a bit confusion. There are too many option, you can only select one race at the time and when you finished the next in the room becames the chief to select what to play. I like the way Burnout do the online way better. Carbon also have lag issues, the same as Most Wanted. EA should fix their network code, because it's not good. There are some framerate issues from time to time.
Not to be too negative. NFS: Carbon is a lot of fun and it will give you many hours of play. The four areas a very wide and it lot of roads. This isn't a must have title, but it's a fun title to have.
(Play-Asia only have the Asian and Japanese version of the game).
---
Forslag til innlegg: