I got I-Worm/Brontok.LG, maybe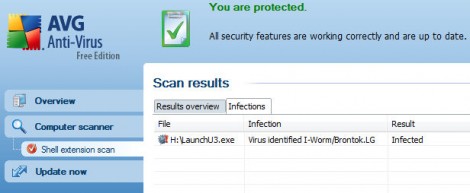 Two days ago AVG Anti-Virus Free v8 reported that I had a I-Worm/Brontok.LG virus on my SanDisk Cruzer Micro 4 GB U3 flash drive. It's the LaunchU3.exe file one the CDFS partition that is reported to be a virus. The virus is detected on both my Vista and XP computers.
Since it's on the CD part on the flash drive, it can't be removed. But this file have never been reported a virus before, so I guess that there is a fault in the latetest update for AVG Free.
I've made some internet searches and have only found other people which can report the same problem, but no solutions.
UPDATE: You can now update AVG Anti-Virus and LaunchU3.exe will not be detected as a virus.
---
Forslag til innlegg: