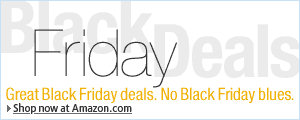 Black Firday is upon us again, Firday November 29. And Amazon.com have already started the game.
Black Friday deals start today! Don't spend Black Friday 2008 jostling for bargains and parking spots. Amazon will have amazing deals to help you and your site visitors get holiday shopping done for less. Our Black Friday page (www.amazon.com/blackfriday) is the central point to find all our Black Friday deals, including the Gold Box hourly deals featured from midnight to 11pm PST and thousands of products that are on sale for a limited time only.
Amazon Customers Vote is back for 2008 and voting has already begun! Customers Vote is a special end-of-year promotion where you and your site visitors can vote for the deal you'd like to buy at an amazing discount. There will be six rounds of voting with three products in each round. Beginning Thursday, November 27, 2008 each day a new winning product will be announced, and randomly selected customers who voted in that round will receive an invitation to participate in the race to buy the winning product.
---
Forslag til innlegg: