I want Terminator 2 – Judgment Day: Skynet Edition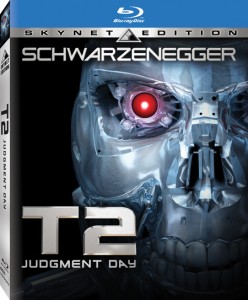 I do wonder how many version of Terminator 2 exist on DVD. I think I have three different version of T2 – Judgment Day; a normal version, sepcial version and a ultimate version. And I want more. But this time on Blu-ray. Happy to say (though it's been known for months now) Terminator 2 will come on Blu-ray in US on May 19 and in Europe on June 1st.
It would be cool to have the Terminator 2: Skynet Edition Endoskeleton version, but it's too much money and  allready have all the versions. So I think I'll stick with the Terminator 2: Judgment Day: Skynet Edition Steel Tin.
Arnold Schwarzenegger returns as the Terminator in this explosive action-adventure spectacle. Now he's one of the good guys, sent back in time to protect John Connor, the boy destined to lead the freedom fighters of the future. Linda Hamilton reprises her role as Sarah Connor, John's mother, a quintessential survivor who has been institutionalized for her warning of the nuclear holocaust she knows is inevitable. Together, the threesome must find a way to stop the ultimate enemy-the T-1000, the most lethal Terminator ever created. Co-written, produced and directed by James Cameron (The Terminator, Aliens, Titanic), this visual tour de force is also a touching human story of survival.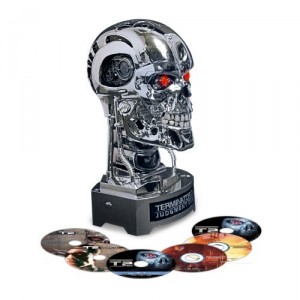 Specifications for the Endoskeleton Skynet Edition:
Feature with three branched versions: Theatrical Cut, Special Edition, Extended Special Edition
2 feature Commentaries: Cast & Crew
Cameron & Wisher Subtitled in all languages except Scandinavian (English)
Interactive Mode (with 40 minutes of PiP SD, 18 minutes of non-PiP SD, and the slideshows with 97 minutes of audio)
Technical information about the shooting
Quiz-Mode and Game-Mode (BD-J only)
Storyboard-Script Mode
Database Mode (Bookmarks, Keyword Search)
T2 THX HD trailer
BD-Live client
Here is the different versions and places to order from.
Play.com
Terminator 2: Skynet Edition Endoskeleton
Terminator 2: Skynet Edition Steel Tin
Amazon.com
Limited Edition T2 Complete Collector's Set (for the Endoskull)
Terminator 2: Judgment Day (Skynet Edition)
Amazon.co.uk
Terminator 2: Judgment Day: Skynet Edition Steel Tin
Amazon.de
Terminator 2 – Skynet Fan Edition
---
Forslag til innlegg: