Kindle DX – Amazon's New Addition to the Kindle Family
Amazon announced today the new Kindle DX. It will be released this summer and can be pre-order now for US$$489. You can read hands-on on Engadget.com (and from the pressconference) and on Gizmondo.com.
The next paragraphs are copy$paste from Amazon.com:
We're excited to introduce the Amazon Kindle DX, Amazon's new addition to the Kindle family, available for pre-order today!
With a beautiful large screen, Kindle DX's display is ideal for a broad range of reading material, including graphic-rich books, PDFs, newspapers, magazines and blogs.  Kindle DX's display is two and a half times the size of the Kindle display. Whether you're reading the latest bestseller or a financial report, text and images are amazingly sharp on the 9.7-inch screen.  The ultimate travel companion, Kindle DX is as thin as a magazine and holds up to 3,500 books (vs. 1,500 on the Kindle), newspapers, magazines and documents. No longer pick and choose which books and documents fit in your carry-on. With Kindle DX's native PDF support, you can have your personal and professional libraries always with you. In addition to the new large display format and incredible storage capacity, the Kindle DX also boasts an Auto-Rotating Screen which auto-rotates from portrait to landscape as you turn the device so you can view full-width maps, graphs, tables, and Web pages.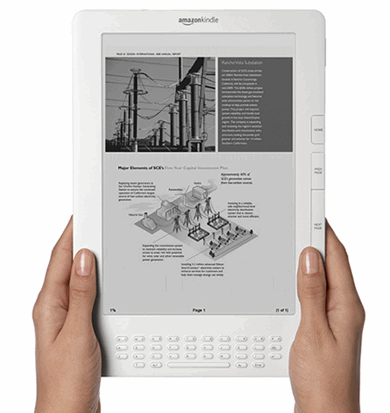 Kindle DX Features
Slim: Just over 1/3 of an inch, as thin as most magazines
Carry Your Library: Holds up to 3,500 books, periodicals, and documents
Beautiful Large Display: 9.7" diagonal e-ink screen reads like real paper; boasts 16 shades of gray for clear text and sharp images
Auto-Rotating Screen: Display auto-rotates from portrait to landscape as you turn the device so you can view full-width maps, graphs, tables, and Web pages
Built-in PDF Reader: Native PDF support allows you to carry and read all of your personal and work documents on the go
Wireless: 3G wireless lets you download books right from your Kindle DX, anytime, anywhere; no monthly fees, service plans, or hunting for Wi-Fi hotspots
Books in Under 60 Seconds: You get free wireless delivery of books in less than 60 seconds; no PC required
Long Battery Life: Read for days without recharging
Read-to-Me: With the text-to-speech feature, Kindle DX can read newspapers, magazines, blogs, and books out loud to you, unless the book's rights holder made the feature unavailable
Big Selection, Low Prices: Over 275,000 books; New York Times Best Sellers and New Releases are only $9.99, unless marked otherwise
More Than Books: U.S. and international newspapers including the New York Times and Wall Street Journal, magazines including The New Yorker and Time, plus popular blogs, all auto-delivered wirelessly
Next is two videoes taken from Engadget.com.