Kindle 2 will be released on February 24, 2009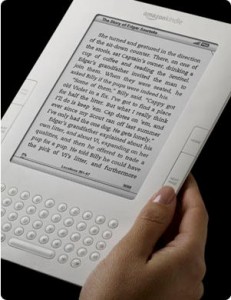 Amazon.com will release Kindle 2 on February 24, 2009. The first version sold like hot cakes and it was almost impossible to get hold of. when they got in a new shipment, it went out as fast. So if you want one now, pre-order.
Here is the technical specifications:
Display: 6″ diagonal E-Ink® electronic paper display, 600 x 800 pixel resolution at 167 ppi, 16-level gray scale.
Size (in inches): 8″ x 5.3″ x 0.36″.
Weight: 10.2 ounces.
System requirements: None, because it doesn't require a computer.
Storage: 2GB internal (approximately 1.4GB available for user content).
Battery Life: Read on a single charge for up to 4 days with wireless on. Turn wireless off and read for up to two weeks. Battery life will vary based on wireless usage, such as shopping the Kindle Store and downloading content. In low coverage areas or in 1xRTT only coverage, wireless usage will consume battery power more quickly.
Charge Time: Fully charges in approximately 4 hours and supports charging from your computer via the included USB 2.0 cable.
Connectivity: EVDO modem with fallback to 1xRTT; utilizes Amazon Whispernet to provide U.S wireless coverage via Sprint's 3G high-speed data network
USB Port: USB 2.0 (micro-B connector) for connection to the Kindle power adapter or optionally to connect to a PC or Macintosh computer.
Audio: 3.5mm stereo audio jack, rear-mounted stereo speakers.
Content Formats Supported: Kindle (AZW), TXT, Audible (formats 4, Audible Enhanced (AAX)), MP3, unprotected MOBI, PRC natively; PDF, HTML, DOC, JPEG, GIF, PNG, BMP through conversion.
Included Accessories: Power adapter, USB 2.0 cable, rechargeable battery. Book cover sold separately.
Documentation: Quick Start Guide (included in box) [PDF]; Kindle 2 User's Guide (pre-installed on device) [PDF].
Warranty and Service: 1 year limited warranty and service included. Optional 2 year Extended Warranty sold separately.
Here is a screenshot of the frontpage on Amazon.com today.