Vancouver 2010: The Norwegian curling pants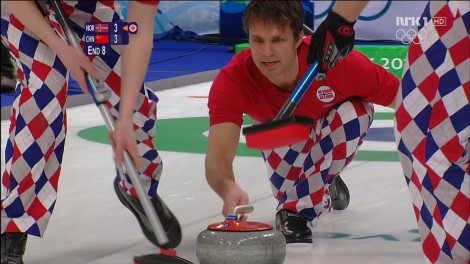 I find curling very fascinating and I'm following the Norwegian team which do very well at the moment. They lost the opening match against Canada. But have since won against USA, Germany, Switzerland and China.
But what interessting, is all the buzz the Norwegian team have got over their crazy pants, also referred to as clown pants. The Facebook group The Norwegian Olympic Curling Team's Pants have at the time of writting 182 000 followers. I quess Loudmouthgolf.com have had some extra hits this week. You can also buy similar pants on eBay
.
It's not only Norwegian press that have written about the curling pants. Msnbc.msn.com and usatoday.com are some of the international ones. The Today Show have also covered the new fashion, which you can watch bellow.
Visit msnbc.com for breaking news, world news, and news about the economy
Small update: The Facebook group is past 254 000 followers (at 11:20 PM CET, February 21st)
Photo: NRK1