Review: Texas Hold 'em (Xbox360 – Live Arcade)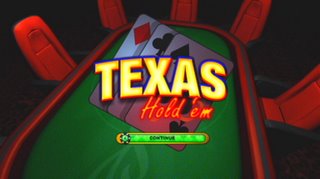 The first thing I did this mornig, was to download the Texas Hold 'em as it's only free for two days. So you can't get better value for money than this.
I've never played any form of poker because it looked to complicated. But this morning I read through the How to Play and tried the Singel Player mode first. It was actually easy to play and after a couple of matches I got the hang of it, I think. I also tried multiplayer game online. I'm not a good player because this is the first day as a poker player, but I won a few rounds and will get better with time.
I have to say that this is a great game and a very addictive one. I think this will be quite a popular game online, as UNO is. Card game is in the wind as never before. Download the game while it's free, on friday you have to pay 800 points for it, but a well spendt 800 points.
---
Forslag til innlegg: