New Virtual Console games, Europe – Friday, September 14
Europe got three new Virtual Console games today, Friday September 14. One is Super Mario Bros.: The Lost Level, which is the orginal Super Mario Bros 2 which was only released in Japan on the Famicom Disk System. This game is available for download until end of September only. Nintendo will release some more Japan only games in the coming week, but more on that at the end of this post.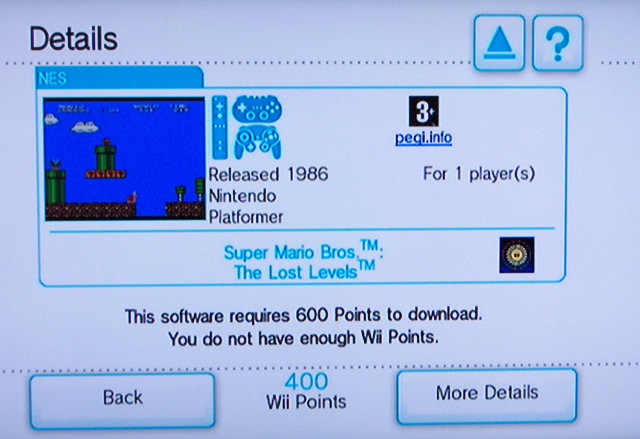 This is the games that's new this week:
Mario's Super Picross
Super Nintendo – 1995 by Nintendo – puzzle – 1-2 players – 900 points
More than 10 years before Picross DS, there was Mario's Super Picross for Super Nintendo. This classic 'picture crossword' game, previously unavailable outside of Japan, features hundreds of relaxing yet challenging brainteasers.
Each Picross puzzle consists of a grid of tiles which reveal a picture when solved correclty. In Mario's main game mode, a wrong move means losing precious time. However, in the more difficukt Wario puzzles, mistakes are not indicated and the timer counts upwards!
Like Picross DS, Mario's Super Picross also features a save ability that lets you return to a puzzle later, and various background melodies.
In-game text will include some Japanese.
Neutopia II
Turbografx – 1992 by Hudson Soft – action RPG – 1 player – 600 points
The sequel to the action RPG, "Neutopia", wich is currently available for download. THe story begins with the apparent revival of the evil demon, "Drith".
This game picks up where the first one left off, with you taking on the role of the main hero's son. You'll need to rely on your "magic compass" and gathered information to find entrances to labyrinths and defeat the bosses in them. Make your way thorugh the field, which can be tricky at times, and find hidden information and items. Move blocks and destroy wall to uncover secret rooms.
Like the original, this game has a save function, a fine-tuned difficulty level, and a fast-paced story, making it a true RPG that everyone can enjoy. Experience improved graphhics and controls in this exciting sequel.
Super Mario Bros.: The Lost Levels
NES (Famicom Disk System) – 1986 by Nintendo – platformer – 1 player – 600 points

For the first time outside of Japan – for a limited time only – experience the original sequel to the best-selling video game of all time!
Super Mario.: The Lost Levels, originally available only for the Famicom Disk System in Japan, expands on the first game with challenging new level designs, trickier enemies and obstacles, and many secret worlds to discover.
This game is only available for download until the end of September, so make sure you grab this piece of gaming history while you can!
The Wii Shop also had more info on upcoming games. Here's the quite from these pages:
Introducing the first Hanabi Festival!
Since the launch of Wii, Virtual Console has been your ticket to video game classic from yesteryears. But now we're going broaden your horizon even further.
Over the next few weeks, until 28th September, we'll be bringing you games that were never released in Europe before!
We're calling our event the "Hanabi Festival"; named after the Japanese holiday season that's famous for its fireworks displays ('hanabi' literally means 'fire flower'). And, boy, we've got some games that will light up your life…
Mario Week (from 14th September)
Super Mario Bros.: The Lost Levels (NES)
Mario's Super Picross (Super Nintendo)
Ninja Week (from 21st September)
Ninja Gaiden (NES)
Ninja JajaMaru-kun (NES)
Sci-Fi Week (from 28th September)
Sin And Punishment (Nintendo 64)
Gradius III (Super NIntendo)
And who knows? This first Hanabi Festival might not be the last…