Nintendo DSi arrives in Europe on 3 April 2009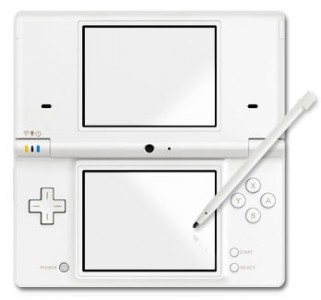 Yesterday Nintendo of America announced that Nintendo DSi will launch in North America on April 5. Guess what? Nintendo of Europe announced today that Nintendo DSi will arrive in Europe on April 3, two days before US.
Here is the full press release from Nintendo.co.uk (via GoNintendo.com):
Nintendo DSi arrives in Europe on 3 April 2009

19 February 2009 – Nintendo will launch its new handheld console, the Nintendo DSi, in Europe on 3 April 2009.  The Nintendo DSi will be available in black or white and is the thinnest and lightest member of the Nintendo DS family.  The console is packed with new features that will excite fans of and newcomers to the Nintendo DS range.

There are many ways to have fun with the Nintendo DSi, from creating, customising and sharing photos with friends & family or listening to and experimenting with your favourite music, to playing more than 1000 Nintendo DS games and downloading new Nintendo DSiWare games directly onto your console. The Nintendo DSi also features built-in Internet browsing capabilities, meaning the fun begins the moment you switch it on!

Nintendo DSi brings motion-detecting cameras to handheld gaming
The Nintendo DSi incorporates two cameras, adding an entirely new dimension to gameplay. The cameras are able to accurately detect facial features and players' movements. Moving the upper body, hands, arms and head in front of the camera now means play can be directed by movement alone, bringing a whole new way of interacting with the handheld.

Play with your pictures
The Nintendo DSi's cameras face inside and outside; mounted on the console's flip-up lid so users can snap themselves or their friends and families just as they choose. What sets the Nintendo DSi's cameras apart, however, is that the Nintendo DSi Camera software comes fully loaded with 11 special camera effects so that users can take shots using a range of special effects.

Users can edit their images in real-time or after they're taken. Choices include a distortion tool which allows users to use the Stylus to distort their image in a variety of quirky and fun ways. Turn any face into fans' favourite Mario with his famous moustache and hat, or frame the image beautifully in a style of your choosing. Everything you create can be saved into a personal photo album which in turn allows you to use your Nintendo DSi as a personal digital photo frame! Users can share their snapshots with friends and family wirelessly. Or by saving the content onto an SD memory card, users can upload to their personal computer or their Wii and share with friends and family using WiiConnect24!

Play with sound
The Nintendo DSi has enhanced volume and sound quality so that users can experience the Nintendo DSi Sound application, as well as in-game music, at its best.  As well as bringing portable music to the Nintendo DSi (as players will be able to play AAC-encoded music files on their console), Nintendo DSi Sound introduces new ways for Nintendo DSi users to experiment and play  with sound and music – changing the pitch, speed and even apply effects to sound files that are played on the console.

For example, users can slow down a phrase in a foreign language to get the pronunciation just right.  But they can equally have fun recording their own voices and manipulating the play-back – adding sound effects to create new fun with sound.  Players can also change the speed or add sound effects to songs, enabling them to create their own unique mixes, as well as learn words and instrumental solos more easily.

Download Nintendo DSiWare and customise your Nintendo DSi with a whole host of new titles and applications…
You can customise your Nintendo DSi by downloading games and applications from the Nintendo DSi Shop, in addition to being able to carry around your Nintendo DSi with your very own unique photos & music files. A variety of fun software will be available for download in the forthcoming months. Examples include an application which enables users to make animated cartoons or combine photos to create mini-movies (incorporating both sound and moving images); or the fun-filled WarioWare software which utilises the motion-detecting camera for a completely interactive experience.  Users will also be able to download the Nintendo DSi Browser for free from launch, offering quick and easy Internet access from their Nintendo DSi.

All of this and more can be downloaded directly from the Nintendo DSi Shop via the Internet, and thanks to the Nintendo DSi's built-in flash memory these can be saved directly onto your console, meaning you can take all of your games and other applications with you wherever you go.

Packed with features, but thinner than ever
In addition to all of the new features, the Nintendo DSi comes in a matt finish and is a full 12% thinner than the Nintendo DS Lite, making it Nintendo's most portable handheld ever.  However, it also packs a punch with bigger, brighter, 3.25" screens. As well as offering downloadable software via the Nintendo DSi shop, the new handheld is able to play games made specifically for the system and most Nintendo DS games – offering access to a library of hundreds of existing titles.

Nintendo DSi launches across Europe on 3 April in black and white.
---
Forslag til innlegg: