Nintendo launches Connection Ambassador in Europe
If you're lucky and live in Europe and have a lot of friends and family who have still not connected their Nintendo Wii to internet, you can now help them and earn Nintendo Wii points. The more you help, the more points you earn. Helping 10 persons gives you 5000 points, 20 person helped gives you 10 000 points and you can download every Virtual Console game for free.
The Nintendp Connection Ambassador Promotion was launched in Europe on Wednesday, October 21st, 2009.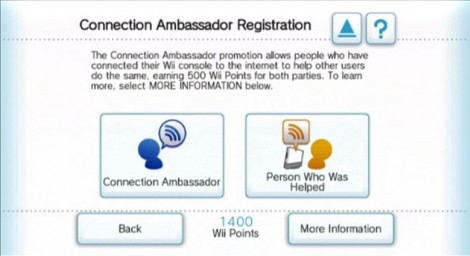 Here is some of the pressrelease from Nintendo.co.uk:
By becoming a Connection Ambassador, players can gain up to 10,000 Wii Points by encouraging friends and family to get connected to the Internet with their Wii.  Each time a friend or family member connects for the first time to the Internet with the help of the Connection Ambassador, both the Connection Ambassador and the person they helped will receive 500 Wii Points.
If you help 10 people connect to the Internet, you reach Gold status and can download ALL Nintendo-published NES games for free on Virtual Console as well as receiving a total of 5,000 Wii Points. If you connect a maximum of 20 people to the Internet, not only will you attain Platinum status, you will also receive a total of 10,000 Wii Points to spend on WiiWare games and can download ALL NES, Super Nintendo and Nintendo 64 games on Virtual Console for FREE.
How do I become a Connection Ambassador?
Enter the Wii Shop Channel
There is an icon on the Wii Shop Channel entitled 'Connection Ambassador Promotion'
Select this icon and you will be prompted by two icons: one showing that you are the Connection Ambassador (or the Helper) and the other icon showing that you are the 'Person Who Was Helped'
Select the Connection Ambassador icon
You will be prompted to enter the Wii Number of the person you have helped.
You must do this within 30 days of when the person you have helped, has registered their connectivity using your Wii Number
Once both parties have registered, you will have received 500 Wii Points on your  Wii Shop Channel Accounts to spend in the Wii Shop Channel
What do I do if a Connection Ambassador helps me connect to the Wii Shop Channel?
Enter the Wii Shop Channel
On the Wii Shop Channel welcome page there is an icon called 'Connection Ambassador Promotion'
Select this icon and you will be prompted by two icons: one showing that you are the Connection Ambassador (or the Helper) and the other icon showing that you are the 'Person Who Was Helped'
Select the 'Person Who Was Helped' icon
You will be prompted to enter the Wii Number of the person who has helped you connect
You must do this within 30 days of accessing the Wii Shop Channel
You will be asked to fill in a short questionnaire
Once both parties have registered, you will have received 500 Wii Points on your Wii Shop Channel Accounts to spend in the Wii Shop Channel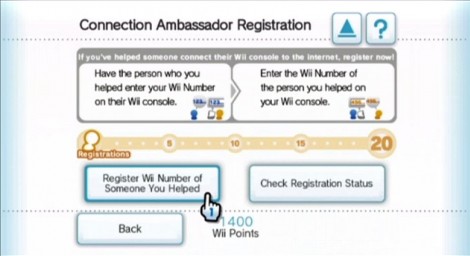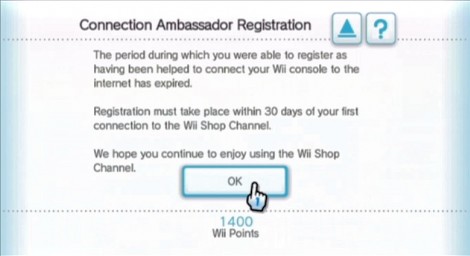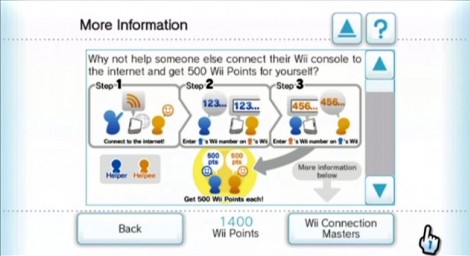 ---
Forslag til innlegg: