DVD: The IT Crowd (Version 1.0)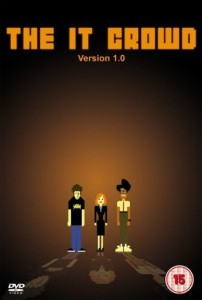 The IT Crowd was shown on Channel 4 sometime last year (I think, I don't live in UK). I saw some clips on the net, and it look good. I bought the DVD and it's great.
The show is about two guys, Roy and Moss, in the IT deparment of a big company. They have their office in the basement and spend most of their time there. From time to time they leave the office to help other employes on the other floors. But if they can, they will stay in the basement vere they feel safe.
I will quote what the back of the DVD cover say:
"Roy and Moss toil in the squalid basement of a huge company, fielding IT help desk calls. Roy has a lousy attitude coupled with an eye for the ladies, while Moss is dressed by his mother and has an earosol can of water clipped to his belt with which to spray his ear when it gets hot.
Into their life of 'users', pizza, science fiction and firewalls comes middle manager Jen, a spunky can-do career gal who doesn't know one end of a laptop from the other. Can she introduce real life to men who email the fire brigade in an emergency, who invent a spycho for an internet dating site and display sympathetic PMT symptoms once a month?"
When they get a call, the conversation goes something like this:
-"Hello, IT. Have you tried turning it on and off again?
OK, well, the button on the side, is it gloving?
Yeah, you need to turn it on."
This is a very british sitcom and a very good one. The characters are a bit stereotypical, but they are spot on. The IT Corwd is very funny and I laugh all the time. I think you will too. If you buy this DVD, and I think you should, it's well invested money.
The series have six episodes:
Yesterday's Jam
Calamity Jen
Fifty-Fifty
The Red Door
The Haunting of Bill Crouse
Aunt Irma Visits
The DVD have some extras: Deleted scenes, Behind The IT Crowd, Hello Friend, Hidden Out-takes and Audio commentaries.
Picture is 16:9 anamorphic, English 2.0 stereo and its PAL region 2 (will work on regionfree DVD players).
A new season will be aired in the UK this autumn 2007.
You can buy the PAL region 2 DVD from Amazon.co.uk
.