Review: The IT Crowd v3.0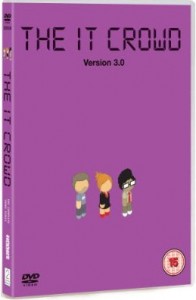 I really liked season 1 and season 2 of The IT Crowd. I'm happy say that season 3 is as good as the previously seasons. We're still following Moss (Richard Ayoade), Jen (Katherine Parkinson) and Roy (Chris O'Dowd) in their everyday life as IT people. If this crowd can work in IT, everyone can.
Here's the episode titles of series 3:
From Hell
Are We Not Men?
Tramps Like Us
The Speech
Friendface
Calendar Geeks
My favourite episodes are The Speech where Moss and Roy convince Jen into belive that the Internet is in a small black box. Friendface is also a great episode. It's a parody on Facebook. Real fun.
Here is the text from the backcover:
Whilst Reynholm Industries boss, Douglas, is spending the pension fund on gold flakes in the water supply, the dysfunctional IT department – Moss, Roy and Jen – build up the courage to face the frightening world of people who somehow communicate without using a keyboard.

As well as the usual bickering, time wasting and incompetence, the co-dependent trio become the victims of sexual harassment, create a fundraising nude erotic calendar, confront the builders from hell and join a social networking site.
In addition to six good episode you also get this:
Audio commentary w/Graham Linehan
An Interview with Graham
Original Title Sequence Animatic
Deleted Scene 1: "Look After Yourself"
Deleted Scene 2: "Roy's Sex Life"
Cracking the IT Crowd
Set Tour
Out-takes
If you liked the previously seasons of The IT Crowd, you will like this one. If you like British comedy, this is the show for you, start with season 1. The IT Crowd is highly recommanded!