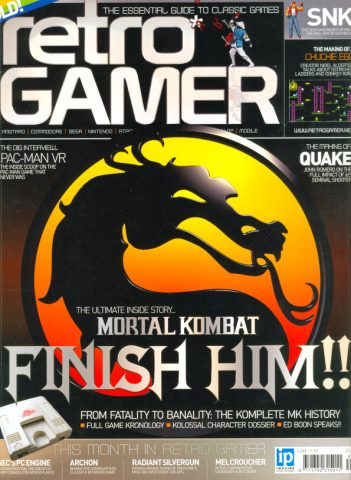 I got the latest issue of Retro Gamer no. 40 yesterday. This is what you can read:
Back to the Eighties – August 1983
The History of Mortal Kombat
The Classic Game – Quest For the Rings
The Making of… Archon
Eastern Promise – Splatterhouse: Wanpaku Graffiti
Retroinspection – PC Engine
Whatever happened to… Pac-Man VR
The Making of… Quake
Developer Lookback – SNK (part three of three)
The Making of… Aliens
The Classic Game – Flood
Company Profile – ID Software
High Score – Tetris
The Making of… Chuckie Egg
In the Chair with… Mel Croucher
Retrorevival: Panza Kick Boxing, Libble Rabble, Radiant Silvergun, Rod-Land
You can buy the latest issue online from Imagine eShop. Next issue, no. 41, is out on16 August.
The first 30 issue of Retro Gamer have been released in electronic form on a DVD. Load 01 – Retro Gamer eMag will cost you £ 19.99 and can also be bought from Imagine eShop.