Xbox 360: Domino Master and Feeding Frenzy 2 on XBLA
This weeks Xbox Live Arcade games are Domino Master and Feeding Frenzy 2. They are both prices 800 points and is hitting the Markedplace on Wednesday Spetember 17, 2008.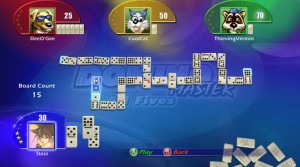 It's dominos with all the bells and whistles in Domino Master®! Play solo or against friends and family in any of five exciting game variations including Mexican Train, All 3's, All 5's, Straight Dominos, or Bergen. See if you have what it takes to move up the ranks and score the coveted spot at the top of the Leaderboards or grab the exciting achievements in this great family game sure to please all ages.
Variable difficulty levels: The single player mode features three levels of difficulty for the A.I. players, including Beginner, Master, and Guru, to provide exciting game play for all ages.

Five game modes: Play Straight, All 3's, All 5's, Bergen, or Mexican Train.

Leaderboard support: See your name in lights as you check the leaderboards for each game type.

Exciting multiplayer modes: Play Player Match or Ranked Matches. The ultimate party game comes to life when up to four players compete to see who can become the Domino Master.

Custom rules: Modify the rules to create your own personal dominos game.

Multiple domino sets: Choose from double sixes, double nines, or double twelve domino sets.
Feeding Frenzy ®2: Shipwreck Showdown™
Chomp your way through an underwater mystery in Feeding Frenzy® 2: Shipwreck Showdown™! Play solo or with friends to dodge predators and eat your way up the food chain to save the sea in this sequel to the popular Xbox LIVE® Arcade game Feeding Frenzy. Play wild, wacky party games, and try to stay alive in Time Attack mode! Sixty spectacular levels, brand-new fish, and underwater scenes await!
New features: New fish and 60 new levels are included. And now, your fish has the ability to jump out of the water.
Multiple game modes: Play wacky party games, try to survive the Time Attack mode, or take on the main challenge and eat your way up the food chain.
Multiplayer: Try co-op campaign play on the same console for up to four players, or try the four player mini-games. Everyone can get into a Feeding Frenzy!
---
Forslag til innlegg: