Xbox 360: War World on XBLA
This week, Wednesday Ocotber 1st, 2008 that is, you can download War World on Xbox Live Arcade for 800 points. (Source: MajorNelson.com)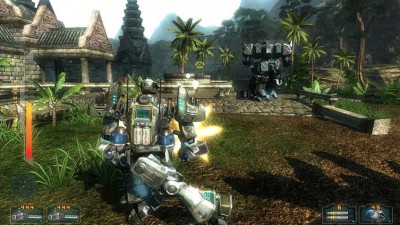 Control a heavily-armed assault mech and fight for supremacy against powerful opponents on the faraway planet called War World. This fast-paced third-person shooter includes three single-player game modes with a 100-level arcade style game and four multiplayer game modes, and is one big beautiful package of entertainment.
Super powerful and unique mechs: Choose from 16 different mechanoids, each having special abilities and advantages including Extreme Speed, High Damage Lasers, Powerful Miniguns, Missiles, Stealth Invisibility, Mortars, Mine-launchers, Tough Armor, Shields and more.
Single player mode: Single player Arcade mode boasts a 100-level campaign with 5 levels of difficulty. Single player Death Match and Single player Team Death Match puts you up against the best mech fighters in War World.
Fast-paced multiplayer: Play with other Xbox® gamers online or direct link. War World multiplayer offers four unique game-modes, including Capture the Flag, Bomb Assault, Death Match and Team Death Match.
Next-gen visual effects: Full HDR rendering, normal mapped diffuse and specular lighting, light blooms, atmospheric, explosion and weapon effects all combine to provide a spectacular game experience.