Watch TV shows and movies on Hulu.com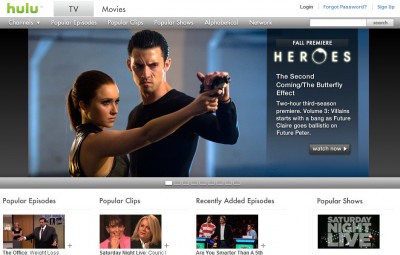 In USA they have a streaming service called Hulu. You can watch a lot of TV shows and movies on Hulu.com. The only downside with this, is that you need a US IP-adress. But there is a way around that. You can download Hotspot Shield from AnchorFree.com (for free). Here's a quote from that page:
Hotspot Shield creates a virtual private network (VPN) between your laptop or iPhone and our Internet gateway. This impenetrable tunnel prevents snoopers and hackers from viewing your email, instant messages, credit card information or anything else you send over the network. Hotspot Shield security application is free to download, employs the latest VPN technology, and is easy to install and use.
In addition to secure your connection, it also gives you a IP-adress from the US. So now you can watch TV shows like:
The Office
Family Guy
Bones
House
Heroes
Fringe
The Simpsons
30 Rock
Terminator: The Sarah Connor Chronicles
Death Note
Chuck
Naruto
Knight Rider
Prison Break
…and many more
And not to forget that you can watch feature lenght movies like:
Close Encounters of the Third Kind
The Girl Next Door
The Fifth Element
American Virgin
Spy Game
Titan A.E.
Underworld: Evolution
Dude, Where's My Car?
Bring It On
Men in Black
Requiem for a Dream
Liar, Liar
Ghostbusters
Eternal Sunshine of the Spotless Mind
…and many more
It's all free and legal. In each episode and movie there will be some commercial breaks, but that is ok as long as it's free to watch. I can live with that.
---
Forslag til innlegg: