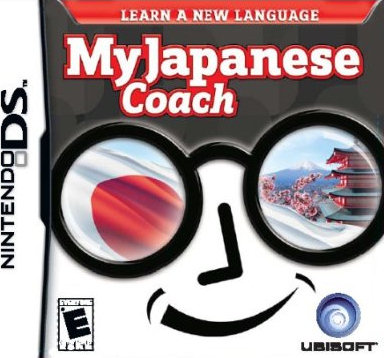 I always wanted to learn some Japanese and have bought some books. And I've seen that there have been released several My Coach titles from Ubisoft, but not in Japanese until now. The "game" have only been released in US so far, so I quess I will import it.
Here is a rundown of the title, taken from Amazon.com:
Explore Japan as each point of interest opens up your vocabulary
Lesson plans take place within interesting locations ranging from Tokyo to the country side

Useful information for first time Japanese speakers planning to visit the country

The world map is identical to the Japanese map and the locations of the country
Learn to pronounce sounds unique to Japanese by comparing your voice to a native speaker
Voice recording and playback feature of the DS allows the player to compare his or her accent to a native Japanese speaker
Ability to listen and compare phrases not just words but also phrases as well
Develop your calligraphy skills as you trace over animations showing the proper way to write in Japanese
Write Japanese characters using the DS stylus and touch screen

Stroke order and comparison ability allows players to properly write hiragana / katakana / kanji
Participate in mini-games that will test your grasp of the structured lessons featured in the game
12 mini-games reinforce lesson plans and the ability to write in Japanese

Variety of mini games ranging from whack-a-mole, word search, bridge builder, and kanji writing
Use the built in reference tool to look up useful words and phrases
Japanese Dictionary and phrasebook with over 12,000 Japanese words and hundreds of useful phrases

Strong reference points and serves as an independent tool from the game that's very practical and useful 
My Japanese Coach is available from Amazon.com (ships only to US) and Play-Asia.com (ship Worldwide).
---
Forslag til innlegg: