Juushinden: Ultimate Beast Battlers only US$ 9.90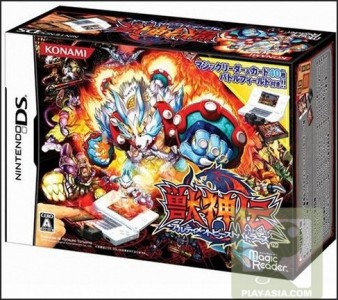 This weekly special at Play-Asia.com is Juushinden: Ultimate Beast Battlers for Nintendo DS at only US$ 9.90. It looks like the game only will work on a DS and not a DSi, since it have a swiping-device pluged into the GBA-slot. The game is in Japanese too, so that limits it even further. The offer ends on August 4th, 2009.
Here is the description of the game taken from Play-Asia.com:
Think battle card games are over in this digital age? Think again.

Beast Battlers, the ultimate card action game is here. Slip the magic reader into the Nintendo DS and have it turn your 2D beast into breathing monster in your console. You don't have to take the beasts as they are, upgrade their power and other attributes through a power-up card. The bigger the deck you have, the better an edge you have over your opponents.

Each package comes with a pack of 40 cards and a battlefield card. Be sure to get to know other beast battlers to play in different battle fields and keep an eye out on booster packs for the better beast warriors.

Please bear in mind however, that the game does not work on Nintendo DSi as there was no slot on the new console for the magic reader.
Here is the Japanese trailer for the game.