Play-Asia.com: Weekly Special – Kung Fu Panda – xbox 360 – region free – US$ 19.90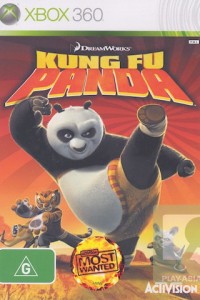 This weeks special at Play-Asia.com is Kung Fu Panda for Xbox 360. It will cost you US$ 19.90 and the game is region free (that means import friendly for you and me).
Quote from Play-Asia.com:
Based on the DreamWorks Animation high-octane martial arts movie Kung Fu Panda, Kung Fu Panda (the game) takes you on an action-packed adventure through the movie and beyond. Battle against Tai Lung and his minions, navigate awesome environments, and overcome dangerous obstacles on your quest to become the legendary Dragon Warrior.
Defeat formidable bosses like Tai Lung and enemies like the Great Gorilla
Perfect your kung fu skills as you play Po, Shifu, and the Furious Five, each with specialized fighting styles
Travel through thirteen legendary levels including epic movie locations like the opulent Jade Palace
Play with your friends to defeat hordes of enemies or challenge them to head-to-head combat in multiple battle arenas