Play-Asia.com: Deal of the Week – Tom Clancy's H.A.W.X. (Xbox 360)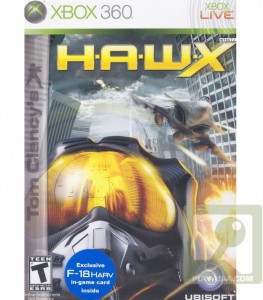 This Weekly Special on Play-Asia.com is Tom Clancy's H.A.W.X. for Xbox 360 at US$ 24.90. The game is region free.
Here is the game discription taken from Play-Asia.com:
As the era of the nation-state draws toward its end, the world of warfare is evolving rapidly. New challenges demand new solutions, sometimes with unpredictable outcomes.
For many years, state-sponsored militaries have struggled to maintain and modernize their forces. Increasing budget restrictions and difficulties in recruiting skilled personnel have led many countries to seek other solutions. More and more nations now rely increasingly on Private Military Companies (PMC) – elite mercenary groups staffed with equally elite personnel – to support their field operations.
[…]
With each passing year, the PMCs expand their influence and scope of activity. Initially just consultants, they are now involved in surveillance, logistics, site security, and other essential roles. In order to keep the war machine going most of the PMC warranted firms dealing with other sources of income such as mining, oil extraction, airliners, goods manufacturing etc. Ensuring a steady flow of currency allowed these companies to operate a tighter game against their opposition. Each year, they come closer to serving as fully operational field units, and their services are so widely used they're already essential. Pandora's Box has been opened. There's no getting rid of the PMCs now.
E.R.S. is in-game technology that helps turn novice aviators into elite pilots of the future. The Enhanced Reality System is the core of the HAWX flight experience: aircraft interception trajectories, incoming missile detection, anti-crash system, damage assessment, tactical map, and weapons trajectory control. E.R.S. also allows players to issue orders to their squadron and other units, making this system as iconic to HAWX as the Cross-Com system is to Tom Clancy's Ghost Recon Advanced Warfighter®!
Players can ease into their flight missions and gain a level of comfort with the use of the assistance mode. Once employed, players can take full advantage of their technological support through the E.R.S and gain maximum piloting security. If the situation calls for the player to unleash the full potential of the aircraft, the assistance mode can be switched off and all safety features will be deactivated. This comes with increased risks, but allows the player advanced dogfighting maneuvers and stunning third-person views
For the first time ever in the air-combat genre, players will be able to experience the entire solo campaign with seamless JUMP IN/JUMP OUT functionality. In PVP mode, players can challenge each other in intense dog-fighting sessions and find out who's the top gun. Winning players are rewarded with experience points and money to unlock more weapons
Players have the opportunity to take the throttle of over 50 famous aircrafts, and take them over real world locations & cities in photo-realistic environments created with the best commercial satellite data on the civilian market