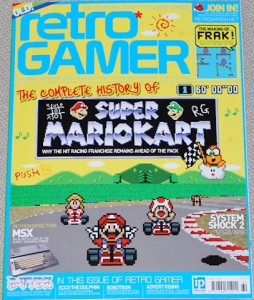 Retro Gamer issue 60 is now out on the street and you can read about the following:
Back to the Eighties – November 1985
Back to the Ninteties – July 1991
The Complete History of Mario Kart
Retroinspection: MSX
The Making of… Robotron
The Classic Game – Super Punch-Out!
The Making of… Zak McKracken
A Shock To the System
Full of eastern Promise: Shinrei Jusatsushi Taromaru
Retro Shamer: Transformers
The Making of… Ecco the Dolphin – Defender of the Future
The Making of… R-Type
The Making of… FRAK!
Retro Gamer can be bought at imagineshop.co.uk.