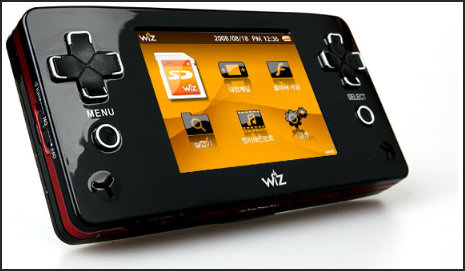 The first time I read about the GP2X Wiz was sometime last Fall, I think. I was supposed to be released earlier this Winter. But it's finaly available. It looks like a cool device to own.
The GP2X Wiz Game System is available from Play-Asia.com at US$ 179.90.
Here is some info from Play-Asia.com:
Powered by a 533Mhz 3D flash engine, the GP2X Wiz is the long-awaited update to the beloved Linux based handheld, offering updated multi-media features, a long serving rechargeable battery, a touch screen and a new sleek design.

Play games, read e-books, see videos and play music files. Let the GP2X Wiz be your all-round multimedia parter for all situations.

Besides the existing games that are installed in the console and the commercial releases in development, the GP2X has always been supported by a large homebrew game developing community. By using an open source OS, the handheld gives you an ample amount of room to release your creative power.

Good news to both gamers and programmers! To encourage creativity in the fanbase, the developers, Game Park Holdings is will open a game developing contest, the winners is going to be rewarded with great prizes. Besides this activity, additional downloadable content is in development, and is becoming available soon too.
You can see more picture on the official website at gp2xwiz.com.
---
Forslag til innlegg: