Official Playstation blog for Europe opened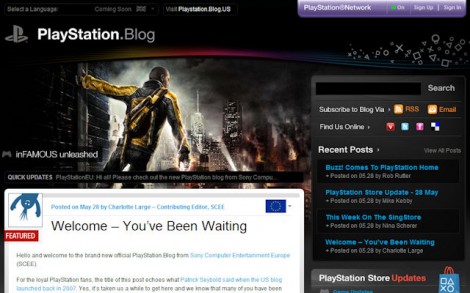 At last and long waited for, the official Playstation blog for Europe is opened. Just in time for E3. Go over to blog.eu.playstation.com.
Here's a quote from the opening post:
Hello and welcome to the brand new official PlayStation.Blog from Sony Computer Entertainment Europe (SCEE).

For the loyal PlayStation fans, the title of this post echoes what Patrick Seybold said when the US blog launched back in 2007. Yes, it's taken us a while to get here and we know that many of you have been asking for a European blog for a long time now. We've been listening and thank you all for your patience and support whilst we've been getting everything ready for today's launch. Now that we're here, it's our hope that this blog will grow to become a one-stop-shop for your daily fix of PlayStation news from across the SCEE region.

[…]

Like our US sister-site, we'll be sharing with you all the latest PlayStation news, interviews, trailers, event coverage and much more with a European flair; everything will come firsthand from the people who work here at SCEE, in the development teams and across our third parties.
---
Forslag til innlegg: