Free Tales of Monkey Island chapter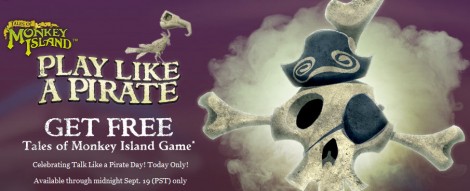 September 19th is the International Talk Like a Pirate Day. And as it happens to be your lucky day. Telltalegames.com is giving away a free copy of chapter 1 of Tales of Monkey Island for PC. Download the game now, since it's only free until midnight on September 19 PST (check this link for you local time around the world).
About chapter 1 – Launch of the Screaming Narwhal:
The saga begins with a heated battle involving the brave but often bumbling Mighty Pirate™ Guybrush, his beloved wife Elaine, and their nemesis, the demon pirate LeChuck. When the showdown goes up in flames, Guybrush finds himself marooned on a strange island with winds that always blow inward. How will our hero manage to escape this meteorological anomaly? What has become of LeChuck and Elaine? And what's the story with the infectious voodoo pox that's spreading across the Caribbean, causing Guybrush and other pirates to act like unruly hooligans? These are just some of the many questions posed in this first chapter of one of the most rollicking and rip-roaring entertainment experiences this summer.