How to get more visitors to your blog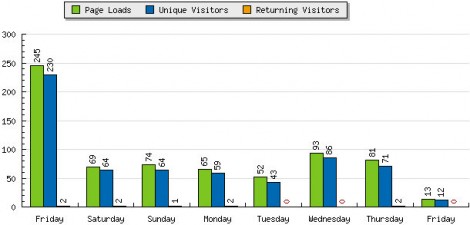 So you write a blog, but do you have any readers? How can you drive more traffic to your blog? When you spend time to write a blog, you want people to read it. Right? If you think you don't have enough visitors or you want more, this small guide is for you.
I've been blogging for some years now and I have between 40-60 unique vistors everyday. And I think that is good, but it could always be better. There's a lot of different tips out there on Internet. The tips I give, is what I have done to get more visitiors. If you have other tips, please leave a comment.
Choose a topic
You have to write about something. I've read that you shoud stick to a couple of topics. But I don't know, I write about everything, and that seems to work just OK. But choose wisely what you want to write about. Write about things that people want to read about. Write about things that last forever, like this blogpost. People always need this information. And write about things that are up to date, like things that happens in the news.
Use paragraphs which makes it easy to read,and don't write to much. People don't read if you have too much text, I don't anyway. But if you devide the text and have space, it's easier to read.  Keep what you write interesting and if you write well, people will come back to your blog. Quality is good.
Ping your blog
Submit your URL to search engines. You chould be well covered if you only add your site with Google. A quick look at the statistics for my blog, about 96% of hits from search engines came from Google. You should also add your RSS-feed to Google Blog Search and Yahoo. You can also use ping-o-matic which pings a lot of different services. If you use WordPress like me, it will ping a lot of services automaticly when you publish a post.
You could also use services like Technorati and Feedburner (my Feedburner RSS-feed).
Use links
The web is build around linking. You click a link to get from one site to another. So you have to spread the link to your blog. If you have friends or family members who blog, have a list of each others blog with links in the sidebar. People will click on them.
Read other blogs and make comments. You will then be able to leave a link to your site, and the people who own that blog will probably check it out. I do anyway, so leave a comment and you get some traffic from me. And other people who read that blog might just click your link if they thought you made a great comment.
If you are a member of forums, make sure that you put your link in your signature.
When you write an article for your blog, make sure to find other relevant site that have the same topic and link to them. Because of a feature called pingback and trackback, the link to your post will often be posted as comment on the blog you link to.
But remember, do not spam.
Give you pictures a name
I've seen that I often do get traffic from Googles picture seach. So it's actually wise to give the pictures you upload to your blog a real name. Instead of DSC_2494.JPG which is given by the camera, call it eating_hamburger_mcdonalds.jpg.
Tag your post
It will help you to tag your posts. It helps you and your readers to easy find things in a specific categories to read. It also helps search engines.
Headline
Make a good headline. It must describe what your post is about. A great headline will attract more readers, and will help them find what they look for when searching the Net. I hope my headline How to get more visitors to your blog was what brought you here.
Social networks
If you have a Twitter account [link to my profile], you can use that to inform your subscribers that you have posted something of interest. But don't broadcast all your blogpost on Twitter. That will feel likes spam.
Or if you are on Facebook, you could use the statusbar to link to post that could be of interest for your friends.
Google Friend Connect
With Google Friend Connect visitors can become a member of your site. I installed it some weeks ago. But for me, it haven't given me any traffic. But feel free to join my site.
Digg it
If you've written a great blogpost, like I did with this one, digg it. While I don't get that much traffic from Digg.com, it do help. It's one of the biggest news sites out there.
Closing commens
If you do some or all of the above, you will over time increase the traffic to you blog. I don't say these are the best methods. But it's the one that I have used and that works for me. I've found other sites that says much of the same.
Feel free to make a comment. If you have other and better tips to get more readers to our blogosphere, please write it down. If you add links in your comment, please do not add more than two since you will then end in the spam bin.
I hope this will help you to get more visitors to your own blog. Happy blogging!
—
Related topics
I made some seraches, and found some blogs that writes about the same topics like I've done. You should take a look at them and they will give you some more insight to attract other web surfers to your blog.
How To Increase Your Blog Traffic Easily – pikeydude.blogspot.com
How to Increase Traffic to Website for free – onlinedefine.blogspot.com
Few effective steps to increase blog traffic – Professional bloggers' tips…. – theneers.blogspot.com
30 Traffic Generation Tips – traffic-payout.blogspot.com
How To Increase PageRank – isaacyassar.blogspot.com
How To Increase Your Ranking On Google? – money-212.blogspot.com
---
Forslag til innlegg: