Facebook, Twitter, Last.fm and Zune soon on Xbox 360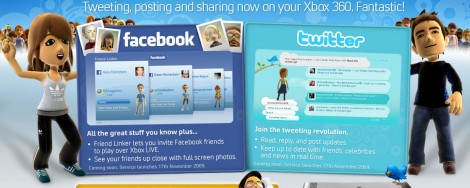 It's getting closer to the next Xbox 360 Dashboard update. The new firmware will bring you four new services to the Xbox. It will let you use Facebook, Twitter, Last.fm and Zune from the Xbox 360 Dashboard. According to Xbox UK the update will come on November 17. Also there will be a public beta end of this month. If you live in UK, you will also get the Sky Player sometime this fall, which will let you watch TV on the Xbox.
If you are a heavy user of Facebook and/or Twitter, now is the time to invest in Xbox 360 Messenger Kit for text typing. I've been using it close to a couple of years now and it's way better to type text than useing the controller.
For an indepth preview of the new services, you can check out Joystiq.com or watch the video from Engadget.com below.
---
Forslag til innlegg: