LEGO Tower – Contructing a Guinness World Record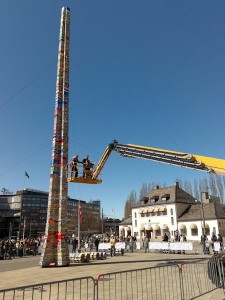 If you have enough LEGO bricks, you can set a world record. But you need around 500.000 of them. A new Guinness World Record was set in Oslo, Norway on April 24th, 2010. The new LEGO tower record is 30.22 meters tall and beat the record from Munich last year by 25cm.
I recorded a video, which you can watch bellow, when they placed the LEGO modules onto the tower. Pretty amazing.
Photo & video: Frank Eivind Rundholt (Creative Commons)
---
Forslag til innlegg: