Xbox 360: Vigilante 8: Arcade on xbla
This weeks Xbox Live Arcade game is Vigilante 8: Arcade, available on Wednesday November 5. The game will cost you 800 points. (Source: MajorNelson.com)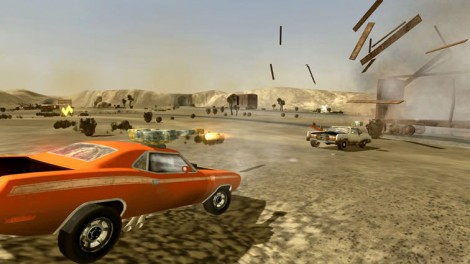 Vigilante 8: Arcade
Take the wheel as fully-loaded auto combat revs into high gear with Vigilante 8: Arcade®. It's a down and dirty war on wheels where everyone's riding shotgun. This brand new remake of the classic Vigilante 8 game lets you choose from among eight tricked-out retro-fine 70s vehicles with some serious firepower. Multiple special weapons let you wreak havoc on five newly-designed and destructible arenas. Complete the single player Quest story mode or test your car-crushing skills in local and Xbox LIVE® multiplayer versus or co-op modes. Rebuilt from the ground up, V8: Arcade is modern vehicular warfare at its finest!
Cool vehicles: Choose from eight gorgeous, highly-varied supercharged 70s vehicles, each rendered using advanced metallic shaders with more than 10,000 polygons.
Custom options: Play as different Vigilante 8 personas, choose the color of your car, and trick out your vehicle with special weapons.
Weapons: Use six standard weapon pick-ups with three advanced attacks each. Try both the "classic" (combo) and "casual" (charge-up) input methods.
Battle arenas: Experience five newly designed, highly interactive arenas, using Bezier patch technology for maximum surface smoothness. Discover collectible power-ups, salvage points, and artifacts, and thrill to the spectacular destructive and pyrotechnic effects.
Single and multiplayer: Play the single player modes against sophisticated bot A.I., including the Quest story mode, or play with friends in local split-screen modes with up to four players, and online multiplayer with up to eight players in a variety of versus and co-op configuration possibilities.
Extras: Leaderboards, achievements, extra downloadable content, and more are available for the game!