Xbox 360: A Kingdom for Keflings on XBLA with avatars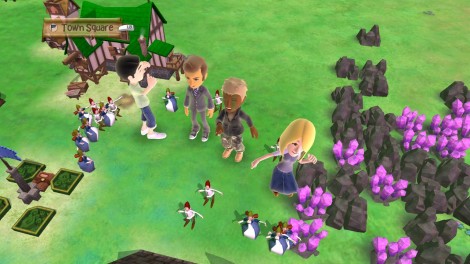 On November 19 the long waited NXE update is hitting your Xbox. Along side with the firmware update, UNO!, Bomberman Live, Hardwood Hearts and Hardwood Spades will also be updated to support avatars (Gamerscoreblog.com).
Also, A Kingdom for Keflings will be released with avatar support at 800 points.
Full quote from GamerscoreBlog.com:
You play a giant. Not just any giant, either. The giant will take on the form of the Avatar you created. With this giant, you supervise the building of a metropolis that starts as a simple village. Order your Keflings around making them chop wood, build, etc. You can even paint your buildings to make them even more "yours".

Oh, and if you get bored and need to get out some aggression, you can kick them around a little. Not that I would ever do such a thing. Ever…

Other features of the game (ripped from the media blast) are:

The ability to build cities online cooperatively with up to 3 friends

Stylized animated graphics that change with the seasons and season-based gameplay

A dynamic-music soundtrack (which adapts to the season and the state of the village)