Play-Asia.com: Fracture only US$ 11.90 (Weekly Special)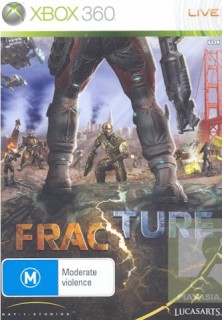 This Weekly Special at Play-Asia.com is Fracture for Xbox 360. The game is US$ 11.90 + shipping US$ 3.40. The deal ends 8.00 PM December 30, 2008 Hong Kong time (click link for your local time). The game is region free.
About the game, taken from Play-Asia.com:
The world is in chaos. After years of neglecting the environment, nature has fought back with devastating effect. Earthquakes, floods and tornadoes have reduced the United States to a mere shadow of its former self, effectively cutting the East and West coasts off from each other. And with division has come dissent. Thousands died and those that survived were forced to adapt to a new way of life. In the East, the path to survival was paved with technology and cybernetic enhancement. In the West, survival of the fittest took on new meaning with stem cell research and genetic modification. These two ideologies and ways of life lead to a division so great that war is the only course of action.

In Fracture™, take on the role of Atlantic Alliance soldier Jet Brody as he goes against the genetically enhanced Pacificans and their fanatical leader General Nathan Sheridan. Unleash the power of terrain-deforming weapons that literally reshape the battlefield before your very eyes, and decimate your enemies with a wide array of weapons with earth-shattering effects.

Reshape the battlefield. Reshape the battle. For the sake of mankind and the future of humanity.

Use weapons to fracture, crater, freeze, or elevate the earth. Raise and lower terrain to provide cover, discover hidden pathways, and mold the war zone to your own advantage
Follow the journey of a patriotic Atlantic Alliance soldier when an act of treason launches him into the battlefield, as forces wage a battle of genetics vs. cybernetics
The last World Wars were fought in Europe, but the next great global war will be fought on American soil
Battle in famous locations across the United States
Here is a video review of the game from Gamespot.com.