Ace Attorney Limited Edition – Only in Japan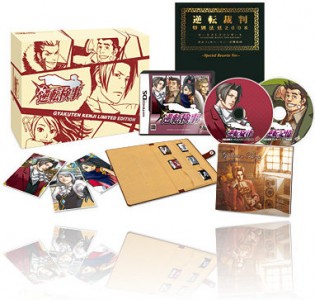 It must be great to be a game collector in Japan since they get all sort of special edition og games and consoles not released anywhere else.
On May 28, 2009 a new game in the Ace Attorney series (as we know it in the West) will be released in Japan, namly Gyakuten Kenji. Japanese gamer does not only get a new game, but also a new Ace Attorney themed DSi in the Premium Edition Ace Attorney DSi. Not only that, but they can also buy a Ace Attorney Limited Edition of the game which contain the following:
Orchestrated Mini Album. It's all music from the game re-done by the Tokyo Symphonic Orchestra. 5 tracks in all.
Video Collection DVD. Has some really unique footage like a "How to Play" video, some footage of the Special Court Hearing Event, TGS video, and more.
Concert Pamphlet. Inside is also a look at the Manga by the Art Director!
Character Portrait Cards
Special Card Case. It's a sweet carrying case for your Ace Attorney games, with six open slots.
Luckily, everything is available for import for those with the needs and money. You can go to Play-Asia.com to check it out. The release date is May 28.