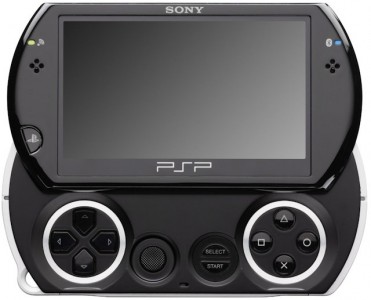 (Picture from Eurogamer.net)
The new rumored PSP Go is indead real and video of it was leaked a bit early by Sony themself. It was in June edition of Qore (which you can buy from the US Playstation Store), they talked a bout the the new PSP Go which would have been shown for the first time on Sony's press event Tuesday June 2nd. This Qore edition is now pulled from the Store.
The big news with the new PSP is that is now lack a UMD drive, but have 16GB flash onboard instead and you have to slide to get to the controlls.
 Thanks to Engadget, here's the rundown of the new features of PSP Go:
3.8-inch display (resolution is undisclosed)
43 percent lighter than the PSP-3000
16GB of Flash storage
Bluetooth built-in; supports handset tethering and BT headsets
No UMD drive
Memory Stick Micro slot
New Gran Turismo, Little Big Planet and new Metal Gear Solid (!) on the way
Full PlayStation Network support (movie and TV rentals / purchases)
Integration with PlayStation 3 (works the same as the PSP-3000 does)
Sony views each of its products as "10-year lifecycle products," so the PSP "needs to live on."
Here is also the pulled Qore video: