Xbox 360: Dash of Destruction added to XBLA
This weeks Xbox Live Arcade game is Dash of Destruction. It's availble for all regions and it's FREE! Yeah!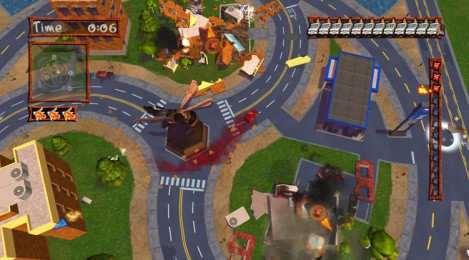 Doritos' Dash of Destruction is a fun and fast-paced racing game. Blast your way through cities as a hungry Tyrannosaurus Rex, as you chase a speeding Delivery Truck full of tasty Doritos. Or, try zooming in and out of the T-Rex's path of destruction as the speedy Delivery Truck in search of your Doritos drop-off points. For even more racing madness, Chaos mode lets you and three friends charge through cities eating Trucks or trying not to be eaten. In Zen mode, eat the Truck to become the Truck!
Great gameplay: Take control of a rampaging Tyrannosaurus Rex as he destroys cities in a quest for Doritos, or maneuver a ramped-up Doritos Truck at high speeds trying to make your deliveries and outsmart the T-Rex.
Game modes: It's fast-paced single and multiplayer gameplay with Zen and Chaos mode for crazy fun.
By popular demand: The game idea was created by Mike Borland, and was chosen by popular vote as a part of the Doritos' Unlock Xbox Challenge.
Free: Oh yeah, did we mention that? This game is free!