Xbox 360: Puzzle Arcade on XBLA
This weeks Xbox Live Arcade game (on Christmas Eve) is Puzzle Arcade for 800 points. Click this link to add it to your queue-list. The game is not available in Asia. (Source: Major Nelson)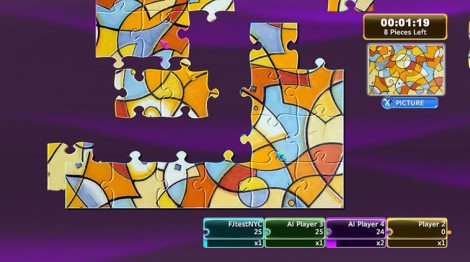 Puzzle Arcade is the online jigsaw game with a twist! With so many jigsaw puzzles at your fingertips, you can play in multiple modes and challenge yourself differently every time. Become Master of the Jigsaw Universe all by yourself or play alongside friends. The possibilities are endless in Puzzle Arcade.
Puzzles galore: More than thirty-five jigsaw puzzles are included, featuring photos, artwork, and illustrations. Downloadable puzzle packs will follow.
Multiple game modes: Try Classic or Turbo mode, with three levels of difficulty, and twenty different puzzle challenges.
Multiplayer: Support is provided for up to four gamers at the same console and over Xbox LIVE®.
Camera support: The game includes Xbox LIVE Vision Camera support allowing you to make and share your own puzzles.