Play-Asia: Only US$ 29.90 – Naruto: The Broken Bond (Xbox 360) – Weekly Special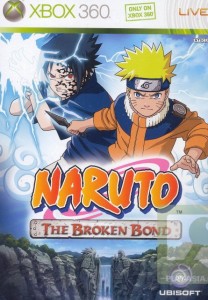 OK, this post came a bit late, but as time of writting, there is more than 3 days left of the Play-Asia.com's Weekly Special for Naruto: The Broken Bond (Xbox 360)  at  US$ 29.90. This is the REGION FREE Asian version, but with English, French, German, Italian, Spanish text. The offer ends on Tuesday January 6, 2009. 8.00 PM Hong Kong time (check when this is in your timezone).
Here is the discription of the game:
Building on the success of Naruto: Rise of a Ninja, this new action adventure takes the story to a deeper level within the Naruto Universe. Now a respected ninja, Naruto evolves into a mature and strong hero. However, with his new status comes responsibility, and Naruto will soon find himself surrounded by conflict. Forced to relive bitter memories, Naruto's best friend Sasuke strikes out on a self-destructive quest for power. Now with the help of his friends, Naruto must confront Sasuke and save him before it's too late. Team up with multiple characters, explore open 3D environments and challenge some of the fiercest enemies from the Naruto Universe.
Enjoy being a hero and benefit from the newly acquired status gained from saving the village
An all-new feature to the series, use the abilities of your ninja teammates to overcome bigger obstacles and join forces in tag battles. Players can now team-up with multiple characters from the Naruto universe when in combat and throughout their heroic adventure
Following the attack of the Sound and Sand ninja, participate in the reconstruction of the Hidden Leaf Village: enjoy its depth from a new perspective, adding a new level of detail never reached before in a NARUTO game. Outside of the village, discover remote locations and enjoy making your journey through vibrant and imaginatively detailed settings
Engage in battle with some of the fiercest characters from the NARUTO Universe, and use new techniques and jutsu to defeat your enemies
With the only NARUTO game to feature online multiplayer, you can now choose among 25 characters and play alongside friends and defeat other teams online via Xbox LIVE. Take your skills a step further and compete in online tournament mode
Relive the best moments of the anime, adventure through the open village of Konoha, and enjoy voice-acting and music from the original series