Play-Asia.com Weekly Special: Timeshift (Xbox 360) US$ 16.90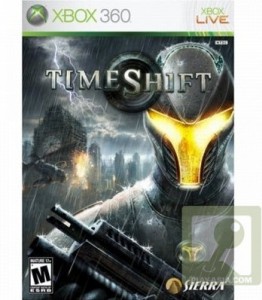 This Weekly Special at Play-Asia.com is Timeshift for Xbox 360. The game is region free (the Asian version with English text/speech) and cost only US$ 16.90.
Description taken from Play-Asia.com:
In TimeShift, you assume the role of renowned test pilot Colonel Michael Swift who recently lost his only daughter in a bus accident. Depressed and desperate for an escape from his misery, Swift decides to accept a recent offer from the U.S. Government.

Armed with a time-control device called the "Quantum Suit" and a time machine called the "Chronomicon," Swift sets out to test the most significant inventions of the century. He is briefly sent back in time to 1911 to plant an experimental probe. Upon his return to the present, a shift has occurred. The world he left has changed beyond all recognition. And his knowledge of this timeshift has made him an enemy of the state. Swift is now both on the run and on a mission to set time straight once again.

Time control elements: Slow, stop, and reverse the flow of time, affecting the enemies and world around you while you move freely.
Time shifting: Obstacles challenge you to think in four dimensions in order to overcome difficult scenarios and defeat challenging enemies.
Next-generation graphics: Using the Saber3D engine, the graphics include normal mapping for amazing high-detailed textures and characters as well as parallax lighting, which allows the environment to come alive with detail.
Deep story line: The futuristic plot involves travel and betrayal, and features an alternate time stream.
Variety of weapons: Unique weapons from varying time periods include plasma guns, hybrid grenades, full-action pistols, and the dreaded "Swarm Cannon."
More than 35 combat missions: Each one features time-shifting elements and challenges that stand in your way.
Online multiplayer options: Lets you use time-shifting powers against other human adversaries via Xbox Live®.